Miss Anne Lewis-Davies, MA. MBE
by William Smith

Anne [centre] outside Buckingham Palace with her sister, Cissie [right] and
sister-in-law [left].

Anne Lewis-Davies [or ARLD as she was frequently called] was a native of Llangranog, Cardiganshire, a niece of Rev. E. Lincoln Lewis, Archdeacon of St David's, sister of Dr Beynon Davies of Kidwelly and Dr E.C.Davies of Llandyssul. After graduating from the

University of Wales

and with a Diploma in Education

from St Andrews

, she spent some three years teaching in Llandyssul, before moving to Pembrokeshire in 1927 to become head of English at

St David's Grammar School

. She also taught Latin and German there - one of her pupils being James Nicholas the poet, who became Head of Mathematics at Pembroke Grammar School before being appointed headmaster of

Ysgol Y Preseli Crymych.

In 1945 she was appointed Senior Mistress and Head of English at Pembroke Dock Grammar School by the headmaster, H.M. (Harold Mansel) Dowling - although she did not actually serve under him, as he left at the end of the summer term to become headmaster of Crewe Grammar School. She said later that she certainly appreciated his expertise as a specialist in Elizabethan Drama and in the poetry of Shelley, two areas of his research, and his skills as Chief Literary Critic of the Western Mail.


| | |
| --- | --- |
| Click to continue William Smith's Anne Lewis-Davies | |

___________________

They say when an old man dies a whole library is lost! Certainly, historians are very keen that one should record useful memories!

When I passed the 11+ at Llanion Primary School at the age of 10 for the old Pembroke Dock Grammar School, a teacher called Mr Thompson told me, "Now you have your chance!" My father was a carpenter but self-educated and my mother had done very well before the War at the old County School, so they were both delighted. Education was 'everything', in Wales at that time.

Before walking to the school in Argyle Street, I prepared the fire grate for later and then climbed three flights of stairs to do the same for my grandmother.

Afterwards, I had a cooked breakfast before leaving the house at 8-30 a.m. I was put in 2C, but it was a difficult year for me, as I had an emergency operation for appendicitis at the end of the first term, but at the end of that first year I came 1st in the form.

We'd had a charming form-teacher called Mr. Evans, who was unfortunately leaving, and I was deputed by my class mates to buy a present. He was a pipe-smoker and I chose a pipe-rack! I had the most glowing report I have ever had in my 70 years! I still read it with pleasure. Encouragement is so important.

On February 6th 1952, King George 5th died. Miss A.R. Lewis-Davies, known as 'The Red Dragon', came into our classroom at 12 a.m. and said, "The King is dead – you can go home." I remember in her English class she insisted that once a week we learned a poem overnight. This was, I feel, invaluable training for the memory!

Other memories persist from the old school: polished wooden floors, and Mr Garlick waiting outside the Headmaster's room. He never taught me, but being disabled and having black sideburns he seemed an exotic specimen. I'm told that he only recently died in Cardiff. In the old school, I was in the school play 'The Old Man of The Mountains' playing the young boy who dies and is then brought back to life by Elijah! I remember, having died, lying on the table and having to be still for a long time. The headmaster, in his review of the play in The Penvro, said I died convincingly but, afterwards, never really came to life. I was very young-looking and seemed to specialise in such parts. We put on a play in Cosheston – 'The Happy Journey' by Thornton Wilder, and half way through it, the whole cast had a fit of giggles and the audience joined in! Later, I had small parts in 'Coriolanus' and 'The Merry Wives of Windsor'.

| | |
| --- | --- |
| Click to continue John Trice | |
Cow and Chow! - by Melanie Phillips
The Pembroke Grammar school canteen was affectionately known as 'The Cow.' It got its name from the stumpy little bottles of milk that were doled out to every pupil each morning at break time.

When the school bell sounded for play, pupils would skip up the steep steps to the canteen. Crates of Craig's milk covered the floor space and kids dived on the dumpy little bottles as if they had never encountered, or ever seen a bottle of the white stuff before.

There was always a competition as to who could drink the most milk. I could manage three, but my mate Susan could easily manage four, or five at a push. The boys, of course, could easily outstrip the girls in this challenge.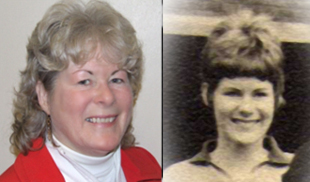 Melanie Phillips
Click to continue Mel Phillips
next page, top left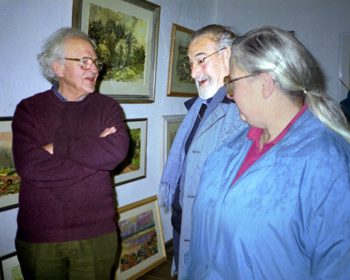 Raymond Garlick (centre) talking to Artist Arthur Giardelli
and Poet Sally Roberts-Jones
In 1946, I became a pupil at Pembroke Dock Grammar School. I was ten years old…

Soon afterwards, the school had a new Head, Roland Mathias, and I had a new English teacher, Raymond Garlick, appointed by Roland Mathias in 1949.

It was not in the normal way of things for me to have much direct contact with the Headteacher, but I remember one occasion when I was sent to his study. I was there, together with two friends, because we had been caught misbehaving during a wet lunch-time break. I clearly recall that Roland Mathias dealt with us in a manner that was calm, very firm and altogether civilized.
Click to continue Peter Preece
next page, top right
____________________________
My first meeting with Roland Mathias was in September 1948, when he interviewed everyone entering the sixth form to guide them in their subject choice. He was a welcome contrast to the previous headmaster: approachable and friendly, with a good sense of humour, together with high principles and determination. I did not realise that day that that interview was the start of a friendship that lasted almost sixty years.

Roland enjoyed taking part in school plays, major roles such as the Bishop in St Joan and the archbishop in Murder in the Cathedral – the four knights delighted in hacking their headmaster to death in each performance, and he always died with a flourish. Sometimes he forgot his lines but he never needed a prompt: he would ad lib for a while and then, with a grin at the prompter, add "…or words to that effect".

Roland enjoyed taking sixth form classes in Current-affairs or History – always mind-challenging sessions. He was always ready to chat about personal matters: which university you were applying for, what course of study, your future plans. In 1949, Raymond Garlick joined the staff, and pupils were delighted to appreciate literature through the eyes of a poet. Few missed his radio broadcasts. He and Roland established a school library, and I spent hours helping them after school or on Saturdays, scouring every cupboard for books, unpacking boxes of new books, filling shelves and so on.
Click to continue William Smith
next page, lower right
| | |
| --- | --- |
| Back To Memories Home | |