...SHARING YOUR MEMORIES OF
PEMBROKE GRAMMAR SCHOOL!
We have a host of great MEMORIES written by former staff and pupils in our collection, so get reading and then writing and send yours in!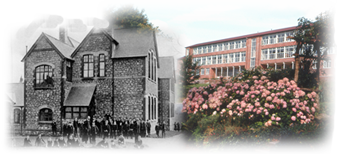 We want to hear from you! Tell us what made PGS special, and how it might have influenced your life's story. Your Memories can be general or may centre around a special person, occasion, or time of year. We accept email format or Word if you prefer.
Jane Connell (Lewis) & Ursula Vollmer
Reunited after almost 50 Years!
A young assistant German teacher, cross paths again. Past pupil Jane had long been in close contact with a German pen friend she'd met through the language programme in 1965, and had even moved to Germany. But many years later, a further delightful surprise was to be reunited with the teacher who had set her on a lifetime path of cultural adventure! Read both Jane and Ursula's recollections!


Terry Thomas and others-
Clive Gammon: Teacher, Actor,
Sports Fisherman/Journalist
I was gazing out of the window at the Pembroke river below. "What are you looking at Thomas---pay attention boy!"


Melanie Phillips-
Semper Fama Viret
It all began with an ugly breezeblock compost container which the landscape gardeners have turned into a tribute to our school. Brings back memories!

Janet Bradshaw and others
Remembering E.B. George
My abiding memory of Ebo is of him looking over the shoulder of me or someone else in the class at our attempts to master some geometry problem and saying in a despairing voice, "There's something rrradically wrong here".

John Trice-
What my Schooldays meant to Me
They say when an old man dies a whole library is lost! Certainly, historians are very keen that one should record useful memories. When I passed the 11+ at Llanion Primary School at the age of 10 for the old Pembroke Dock Grammar School, a teacher called Mr Thompson told me, "Now you have your chance!"

Phil Carradice and mary others
Memories of Pembroke Dock at War
People's memories and the stories passed on from one family member to another make fascinating reading (or listening)...It is history as people remember it. And, after all, history does belong to the victors – or, in this case, to those who are telling the tales.

Roger MacCallum-
Memories of Romanoff & Juliet
In November 1960, the annual school play staged in our school was "Romanoff and Juliet" by Peter Ustinov. It turned out to be the most controversial play ever staged at our school.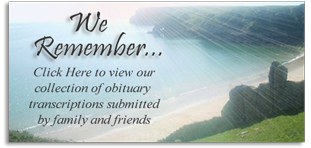 The Penvro is also interested in collecting transcriptions and/or images of newspaper obituaries for past pupils and staff to publish on the site as a permanent record. If you have one to share, please click on the image above to learn more.
____________________________
Don't be concerned with word length or finishing touches- a team of eager editors will help you put your story together! If you would rather use free-hand, have someone scan your page(s) to jpg(s). Send your Memories to us by email, using the Contact bar in the menu. So let your mind wander back and share your PDGS/PGS school days - and don't forget to include photos!
William Smith-
Miss Anne Lewis-Davies, MA, MBE
Possessing a powerful voice, she quelled any whisper with a glance or, if necessary, a reprimand which could be heard in some other rooms along the corridor. As one of our French assistants said a couple of years later, Miss Davies is "formidable".

Melanie Phillips-
Cow and Chow!
There was always a competition as to who could drink the most milk. I could manage three, but my mate Susan could easily manage four, or five at a push. The boys, of course, could easily outstrip the girls in this challenge.

Peter Preece-
Raymond Garlick
Raymond Garlick was immediately recognised as a committed, interesting teacher and, for some of us at least, he became a positive inspiration for our entire time at secondary school.

Margaret Luke (nee Thomas)-
Grammar School-Part I
"There she is, look. How old are you?" Quite a little crowd gathered round on the steps of the girls' entrance to the Grammar school. It was the first day back in September 1950. "I'm ten" I said proudly. "How tall are you?"

Margaret Luke (nee Thomas)-
Grammar School-Part II
Three younger male teachers also remain stamped on my memory. Stuart (Sammy) Shaw, taught English, Religious Education and directed the school plays. It was through him that I developed a love of drama.

William Smith-
Remembers Roland Mathias
Roland enjoyed taking part in school plays, major roles such as the Bishop in St Joan and the archbishop in Murder in the Cathedral – the four knights delighted in hacking their headmaster to death in each performance, and he always died with a flourish.

Mike Knill-
Being Educated
We all wondered what would happen to us and we did whisper what excuses we could put forward, but in the end it simply was "It's a fair cop, guv." What heinous crime had we committed? Nothing serious, really, other than taking the afternoon off school the previous day - without permission. Why, you may wonder?
| | |
| --- | --- |
| Back To Home | |
© 2009-2011 ThePenvro.com - General Copyright Notice: Unless indicated to the contrary, all materials on this site including design, text, graphics, photographs and images are the copyright of ThePenvro.com and are not available for commercial use. All other images and/or photographs appearing on this site are the property of their respective owners, as indicated.
Where copyright for photographs on this site is known, it is indicated.  There are other examples where attempts to locate the copyright holders have failed. Wherever the original photographer or company is known they are attributed.  However, in some cases, there is no indication of who took the original photo or where the copyright, if any, may reside. If anyone viewing the site can provide such information, the wishes of the copyright holder will be respected. Please contact:info@thepenvro.com