Part I - Grammar School
by Margaret Luke (nee Thomas)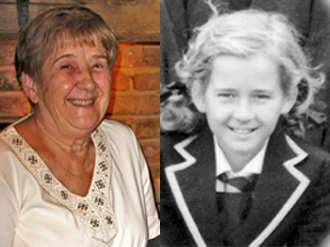 Margaret Luke (Thomas)
"There she is, look. How old are you?"
Quite a little crowd gathered round on the steps of the girls' entrance to the Grammar school. It was the first day back in September 1950. "I'm ten" I said proudly. "How tall are you?"

That was the real issue here. No one of my short stature had crossed over these steps to actually attend classes before. I didn't realise how short I was, it wasn't a BIG issue in my family of comparative dwarfs, back in No 4. I don't suppose we measured too often, because my Dad was always self-conscious of his lack of size. He was about 5'4" at the time. I must have been 3'9", because the report card book when it was brought home the following Christmas said I was '3'11'. So, in retrospect, it was no wonder that I became a bit of a side show on that day.

"Good things come in little packages - I told them." Besides, I can go where big people can't go." "Where's that?" asked a red-head from the third form (2nd year).

"Small holes", I replied promptly, and quickly added,"And my Dad says the bigger they are the harder they fall."

Dauntless, I stood there in my new blazer, its sleeves covering my hands. They had been shortened right up to the gold braid band. There was a 4" hem of black worsted on each arm. It was the smallest size school blazer available, and I was sure it wouldn't be long before I grew into it.


Margaret Luke (Thomas) ...cont'd
School uniform was a new experience for me. I wore it with pride because it signified that I had passed the Scholarship exam and was travelling daily to Pembroke Dock on the bus. The red double-decker public transport bus that picked me up on my doorstep and took me right to the school gates on the east-side limits of the town of Pembroke Dock.

At that time, there was nothing but fields and playing fields between the school and Ferry Lane. I wore a white blouse, black and gold diagonally-striped tie, black cardigan, black gymslip, black three-quarter length socks with a gold band, black oxfords, and the blazer which was black with a rich gold braid on the edges, and the school badge on the breast pocket. The badge was a gold outline of Pembroke Castle and the motto underneath "Semper fama viret", which I think means that "The truth always pays." I carried a huge empty leather satchel on my shoulder and wore a black tam, badge to the front, on my head. There was a special school hat but I couldn't get one small enough to fit, so I had had to wear the alternative, black beret. I got the hat some three years later. It was wedge-shaped, black, trimmed with gold and worn with the corners above the ears and the badge to the front. I have never seen anything quite like it. It was a school rule that hats had to be worn when we were in uniform. The school prefects gave half an hour detention to those not wearing hats. It was a favourite trick of the boys of the school to steal the girls' hats, so that the girls would get detention.

Prefects had the privilege of walking around hatless. I attended school at Pembroke Dock for almost six years. I have had little reason to think about it during my adult life, since I have been well removed from friends who attended with me and teachers who taught me. I have never attended a school reunion and was only once in that building since it closed down in 1956. However, the years in which I was in Pembroke Dock were my most formative, from 10 to 16. It was no doubt during that time that the personality of M.P.M. was well established. What was I really like at that time? What did the Grammar school do for me? Who or what really influenced my early teenage years?
Margaret Luke
Margaret is married to Mac and now lives in Canada. They met when being interviewed for positions at Monmouth Secondary Modern School. Margaret had done teacher training in Furzedown, Tooting Broadway in London. They lived in Redbrook Nr.Monmouth for several years and then moved to Porcupine Plain, Saskatchewan before finally settling in Saskatoon.

| | |
| --- | --- |
| Back To Memories Home | |
© 2009-2011 ThePenvro.com - General Copyright Notice: Unless indicated to the contrary, all materials on this site including design, text, graphics, photographs and images are the copyright of ThePenvro.com and are not available for commercial use. All other images and/or photographs appearing on this site are the property of their respective owners, as indicated.
Where copyright for photographs on this site is known, it is indicated.  There are other examples where attempts to locate the copyright holders have failed. Wherever the original photographer or company is known they are attributed.  However, in some cases, there is no indication of who took the original photo or where the copyright, if any, may reside. If anyone viewing the site can provide such information, the wishes of the copyright holder will be respected. Please contact:info@thepenvro.com